TOMRA True Vision™ is the most advanced technology available for recognition of crates and bottles in crates.
TOMRA True Vision™ crate recognition technology is designed to solve the complex recognition challenges of crates and bottles in crates — without compromising on the speed of use.
As opposed to utilizing various standard components, the optics and light-source systems in TOMRA True Vision™ are specially developed by TOMRA to maximize performance for these very tasks.
The TOMRA True Vision™ optical system setup is unique and patented, providing images and data of the highest quality.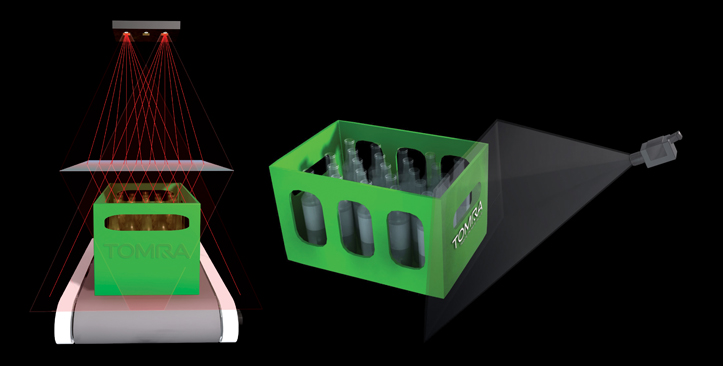 CONTINUOUS VIDEO
SURVEILLANCE
The TOMRA True Vision™ system continuously monitors the crates all the way through recognition, raising security for the owner
HIGHEST ACCURACY THROUGH DIFFERENTIATING
CHARACTERISTICS
Crates may contain bottles that appear similar, but have different refund rates
With TOMRA True Vision™ technology, these bottles are separated with extreme precision due the broad range of characteristics being measured and registered
PRECISE RECOGNITION
SECURE CORRECT REFUND
Different crates may have the same shape, but different color and different refund rate; the crate color feature separates crates based on the color of the crate
Crates may be the same in both shape and color, but from different brands; the logo detection feature quickly separates crates based on logo